Rating:
Vietnam's 5 most beautiful beaches
By: Daniel
Halong Bay

The bay is famous for its scenic rock formations. "Ha Long" is literally translated as "Bay of Descending Dragons." Prior to the 19th century, this name was not recorded in any document or archive. When mentioning the present-day Quang Ninh Sea or Ha Long Bay, old historical books often referred to them by the names of An Bang, Luc Thuy or Van Don. Not until the late 19th century did the name of Ha Long Bay appear on a French Marine Map.

The Hai Phong News, a French newspaper of the time, had an article, Dragon appears on Ha Long Bay, reporting the following story: In 1898 a sub-lieutenant named Lagredin, captaining the Avalanse reported seeing a huge sea snake on Ha Long Bay. This was also witnessed by many of the crews. Thus emerged the European image of the Asian dragon. Whether this appearance of a strange animal looking like a dragon resulted the name of Ha Long Bay is not known.

MÅ©i Né, Bình Thuận

Mui Ne is a coastal resort town in the Binh Thuan Province of southeastern Vietnam, located on an arm of the South China Sea. The town is close to the city of Phan Thiết. Tourism has transformed Mui Ne into a resort destination since 1995, when many visited to view the total solar eclipse of October 24, 1995.

Mui Ne Beach is a popular tropical beach. Strong sea breezes make it very popular for kitesurfing and windsurfing. The tourist season is from December to May. The average temperature is 27°C, and the climate is hot and dry for most of the year.

Phú Quốc, Kiên Giang

Phu Quoc is a very mountainous and densely forested Island of 1320 sq km; it is 48 km in length from south to north and has a population of approx. 80,000 people. Situated in the Gulf of Thailand 45 km west of Ha Tien on the Vietnamese mainland and 15 km south of the coast of Cambodia, Phu Quoc is ringed with some of most beautiful beaches in Vietnam, and offers the best seafood in the country.

Best of the South of the Island Get out on a moto (motor schooter). Head east to pretty Ham Ninh Fishing Village. Contemplate buying pearls. Sample local seafood at Kim Cuong. Head on south and navigate your way to Sao Beach. Refuel with more seafood at My Lan restaurant on the beach. Head further south and have a wander around An Thoi. Head back up the stunning west coast road. Stop off at Phu Quoc Pearl Farm for coffee and good ice cream on your way home. This route is just as good if you start by heading down the coast road and then back via Ham Ninh.

VÅ©ng Tàu, Bà Rịa-VÅ©ng Tàu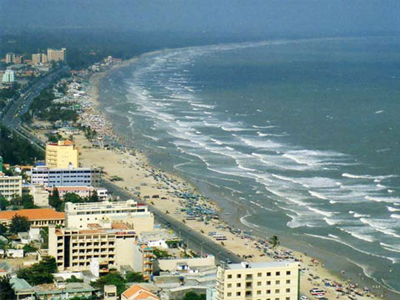 To most tourists, however, VÅ©ng Tàu is more interesting for its extensive beaches. Tourists often prefer swimming at Back Beach (Bãi Sau) but sightseeing in Front Beach (Bãi TrÆ°á»›c). Back Beach is well-known for its over 10 km of fine sand. As VÅ©ng Tàu is only 130 km away from Ho Chi Minh City, it is a favourite resort destination for those wishing to get away from the city. In recent times, the number of foreign tourists visiting VÅ©ng Tàu's beaches increased.

Hội An, Quảng Nam

Há»™i An attracts a fair number of tourists, also being a well-established place on the backpacker trail. Many visit for the numerous art and craft shops and tailors, who produce made-to-measure clothes for a fraction of the Western price. Several Internet cafés, bars and restaurants have opened along the riverfront. Há»™i An is famed for its centuries old cao lầu noodle. The town is also famed for its unique lanterns.

An Bang Beach has long been popular with the locals - and more recently the expat community. It's rarely shown on maps, but is actually closer and easier to get to than Cua Dai beach. It's about 2.5 km from town. Just take Hai Ba Trung Street out of town, An Bang Beach is beautiful!
Add a Comment
Join GotSaga for free! You can share your sagas and much more with millions and are offered a wide variety of tools to enhance your travel experiences for sagas yet to come.